The Coffee Pod Holder Shop - News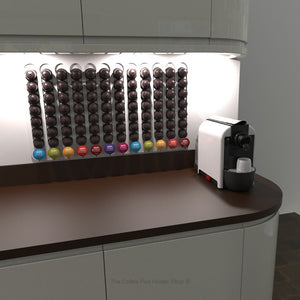 Summary:
If you are short on time, here is the basic installation procedure for your wall mounted Dolce Gusto pod holder, however I do believe that reading the full article would be highly beneficial:
Firstly, find a suitable smooth surface, remember to consider the height of the holder for access, you will need to be able to reach in and remove the capsule from the top of the holder.  Also consider access to other moving elements in your kitchen, such as cupboard, fridge doors or people etc.
Next, ensure the surface is free from dust and grease by cleaning with a mild dishwashing liquid/water mix.  Then allow the surface to dry completely.  This is important because the tape will not adhere to grease or dust and will fall off the wall.
The next step is to remove the backing from the self adhesive strips on the back of the holder and position the wall mounted Dolce Gusto Capsule holder on the surface/wall making sure that it is level.  Remember that due to the self adhesive mounting method this product can only be installed once so it is essential to make sure the holder is in the correct position.
Once on the wall you should then remove the protective film from the front surface of the wall mounted Dolce Gusto Capsule holder.
At this point you can slot in the identifier capsule clips into the slots located at the bottom of the holder.  Locate the top edge of the identifier pod in the clip and rotate the pod down until the round feature on the bottom of the pod locates into the hole on your holder.
All that is left to do is fill the holder with your favourite blends and relax with a well deserved coffee!